Jigsaw Puzzle: Cats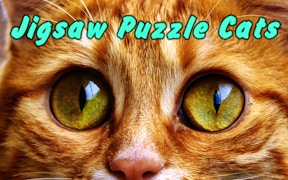 Jigsaw Puzzle: Cats
Get ready folks, because Jigsaw Puzzle: Cats is here to tickle your grey cells and stretch your smile wider than ever. This game is an absolute delight for all puzzle lovers, especially those who have a soft corner for our furry feline friends.
Under the umbrella of games for kids, Jigsaw Puzzle: Cats effortlessly transcends age boundaries, making it a perfect addition to family games. After all, who can resist the charm of 16 adorable images of cats waiting to be pieced together?
Dive into this fun-filled world of jumbling and tumbling pieces and make sense out of chaos. The game masterfully combines the classic elements of a traditional jigsaw puzzle with the modern allure of digital gaming. It's not just about connecting pieces; it's about telling a story with each picture you complete.
If you are fascinated by animal games, this one offers a unique spin with its cat-themed challenges. It's cute, it's cuddly, and it's guaranteed to keep you hooked for hours! Plus, there's more than just entertainment in store for you. Jigsaw Puzzle: Cats enhances your cognitive ability, improves memory, and fosters problem-solving skills – making learning as enjoyable as playing.
Titles under the category of cat games are few and far between that offer such depth in gameplay and immersive experiences. Each image in Jigsaw Puzzle: Cats is distinct, funny, and captures different moods of cats – from sassy to sleepy!
In conclusion, Jigsaw Puzzle: Cats provides a perfect blend of fun and learning - an educational yet entertaining journey through the world of puzzles and cats. Whether you are searching for games for your kids or looking to indulge in some family gaming time together - remember to add Jigsaw Puzzle: Cats to your list!
What are the best online games?