Jezaa 2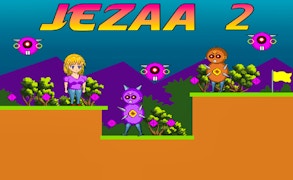 Jezaa 2
Description
In Jezaa 2, you step into the anime-inspired world as a brave girl on a quest. This game is a thrilling 2D platformer, promising exciting stages filled with danger at every turn. Your main task is to gather mysterious purple cubes while outmaneuvering challenging obstacles like vicious monsters, flying foes, shooting traps, saws embedded in the ground, and treacherous lava. The ultimate goal is to reach the yellow flag marking the end of each level and the start of a new challenge.
How to play
Control your character using either "WASD" or "Arrow" keys for movement. You can execute double jumps by pressing either "W" or "Up" arrow key twice in quick succession. The game requires agility and quick thinking to navigate through the host of dangers while collecting necessary purple cubes and reaching the coveted yellow flag.
Tips and Tricks
Timing is key in this platformer. Make sure to time your jumps accurately to avoid enemies and their bullets. Always be aware of your surroundings - traps like ground saws and lava are not always immediately visible. Don't forget that double-jump can save you from many tricky situations!
Features
Anime-themed 2D platform gaming experience
Multiple levels with increasing difficulty
Diverse enemy types and environmental hazards
Addictive gameplay mechanics such as the double-jump feature
Suspenseful objective of collecting purple cubes and reaching yellow flags
What are the best online games?
Tags