Jewels Blitz 6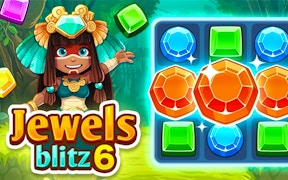 Jewels Blitz 6
Step into the world of Jewels Blitz 6, the latest sequel to the classic match-3 series that has captivated players worldwide. This game is a dazzling array of colors, sounds, and intense puzzle action - perfect for fans of match-3 games, bejeweled games, and jewel games in particular.
Drawing inspiration from the mystical backdrop of ancient Central American cultures, Jewels Blitz 6 invites you on an intrepid journey through Mayan temples. It's not just about matching gems; it's about unveiling hidden truths, uncovering priceless treasures, and solving deep-seated mysteries. Think of each level as another chapter in a gripping novel that you can't put down.
The true gem of Jewels Blitz 6 is its variety. With hundreds of levels on offer, each more challenging than the last, players can look forward to a game that evolves as you progress. Whether you're a veteran or newbie to the match-3 genre, there's something here for everyone.
Besides the main campaign, Jewels Blitz 6 offers Daily Missions and Weekly Challenges to keep players hooked. These tasks provide an extra layer of excitement and competition that will keep your fingers twitching and your heart racing. And let's not forget about the rewards: Gold and magical items bustling with untold powers!
In conclusion, Jewels Blitz 6 is a must-play for any puzzle aficionado. It's far more than just another addition to your collection of bejeweled games - it's an experience. An adventure that ticks every box for challenging gameplay, stunning graphics, and immersive storytelling within a match-3 framework. So jump in and get lost in this epic jewel-hunting adventure today!
What are the best online games?