Jewels Blitz 5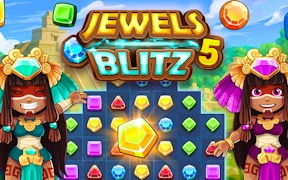 Jewels Blitz 5
Immerse yourself in the enigmatic, jewel-studded world of Jewels Blitz 5, the latest addition to the prestigious legacy of match 3 games. This enticing game stands tall among other bejeweled games, enhancing the enthralling concept of jewel games with a captivating narrative that takes you on a mesmerizing journey into the heart of Central America's ancient civilizations.
The engaging platform of Jewels Blitz 5 sends players on an adventurous exploration through enigmatic Mayan Temples. The real challenge lies not merely in matching three jewels but unveiling the secrets and solving mysteries hidden within these ancient structures. Your nerves will be tested as you venture further into the heart of these temples, each level more tantalizing than the last.
A standout feature is its fantastic storyline infused with hundreds of levels, making Jewels Blitz 5 a notch above other match 3 games. With a thirst for victory and brilliance in strategy, you can eradicate obstacles, earn gold, and acquire magical items that empower your gaming prowess!
The game maintains a fresh appeal with Daily Missions and Weekly Challenges—an innovative twist to traditional jewel games. These unique elements not only broaden the gaming experience but also push your puzzle-solving abilities to their limits, adding an exciting layer to your journey through this mystical world.
A shining gem in the realm of bejeweled games, Jewels Blitz 5 effortlessly merges jaw-dropping graphics with an enticing narrative and intricate puzzles. Its rich tapestry woven with fascinating ancient lore and enticing gameplay makes it an irresistible offering for fans of match 3 games. Ready your wits—it's time to step into the enchanting world of Jewels Blitz 5!
What are the best online games?