Jewels Blitz 4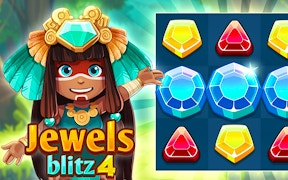 Jewels Blitz 4
Dive into the shimmering, sparkling world of Jewels Blitz 4, a crown jewel among match 3 games. This entrancing installment in the beloved Jewels Blitz series brings more than just gleaming gemstones to the table - it introduces players to a vibrant, adventure-filled narrative set in the lush jungles of Central America.
Meet Maya, an intrepid Mayan princess with a quest: recapture her people's long-lost treasures. Assisting her in this endeavour is where your puzzle-solving prowess comes into play. With your help, Maya can harness the power of colourful gems to overcome obstacles, unravel deep-seated mysteries, and unearth prized Mayan relics.
Fans of Bejeweled games will adore the intricate mechanics that require you to combine gems, unlocking mystical powers and removing barriers. The game's intuitive design will pull you in from level one, and with over 600 thrilling levels to complete, you'll be ensnared in an enchanting web of puzzles for countless hours of fun.
The game is not just about solving puzzles; it also encourages exploration and adventure. With daily missions and challenges that span across enchanting jungle landscapes and even volatile volcanoes, this jewel game is a treasure trove of fun waiting to be discovered.
Playing Jewels Blitz 4 doesn't merely mean participating in another match 3 game; it means embarking on an exciting journey filled with mystery and magic – all from the comfort of your own device. So buckle up for a free puzzle adventure like no other. Your Mayan quest awaits!
What are the best online games?