Jewel Puzzle Game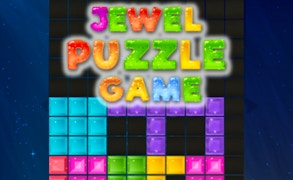 Jewel Puzzle Game
If you're a fan of Tetris games and always on the hunt for thrilling brain games, then the Jewel Puzzle Game is a must-try for you! This game seamlessly amalgamates the classic charm of block-based Tetris gaming with alluring aesthetics and intense strategic planning, delivering an unmatched puzzling experience.
The Jewel Puzzle Game is no mere blocks and shapes game. It revamps the traditional puzzle platform with its innovative and challenging gameplay. Imagine a Tetris game on steroids – that's what this game delivers! The vibrant jewels, entrancing animations, and high-score challenges make it far superior to usual block games.
As one of the unique jewel games, every move in the Jewel Puzzle Game demands meticulous thought, making it an exceptional addition to the realm of brain games. Its intricate level design pushes you to strategize and plan ahead, continually keeping you on your toes. A dynamic mix of fun and mental stimulation, this game is sure to keep both puzzle enthusiasts and casual gamers engrossed!
This jewel-themed twist on traditional Tetris games introduces a fresh layer of complexity, making it a standout among generic block games. Despite its intricate gameplay mechanics, it's not punishingly difficult. The difficulty curve is well designed, providing an appropriate challenge for players at all skill levels.
In conclusion, if you love brain-teasing jewel or block games, then Jewel Puzzle Game should be on your radar. With its captivating visuals, engaging gameplay mechanics, and strategic elements, this game is a complete package for anyone seeking an exhilarating gaming experience!
What are the best online games?