Jewel Jungle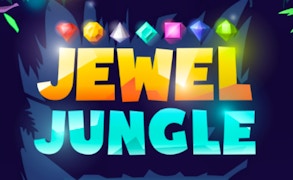 Jewel Jungle
Finding its place in the worthy pantheon of Match 3 Games, Jewel Jungle masterfully twinkles, shimmers, and shines. As a dynamic entry within the genre of jewel games, this title sparkles with complex challenges and captivating gameplay. It welcomes both the experienced players, who cut their teeth on classics such as Bejeweled Games, and newbies exploring this gem of a genre for the first time.
The premise of Jewel Jungle is simple yet tantalizing: match at least three jewels of the same color to clear them from the field. The resulting vacancies can quickly lead to cascades of matches, creating a satisfying chain reaction that has become a hallmark of match 3 games.
In level mode, players are tasked with completing 150 levels, each progressing in difficulty and complexity. Every level brings with it a fresh puzzle and new ways to flex your strategic muscles. From arranging your jewels for maximum score to outsmarting tricky obstacles, Jewel Jungle truly tests your puzzling prowess.
If you're looking for a heart-racing challenge, try Jewel Jungle's time mode. It's you against the clock in this high-stakes race. This mode requires quick thinking and quicker reflexes, adding an element of excitement to the already engaging gameplay.
Part strategic puzzle game, part dazzling spectacle, Jewel Jungle displays exceptional craftsmanship. The jewel designs are stunningly beautiful - each jewel resonates brilliantly on screen. The sound effects accompany every match and cascade resonantly, enhancing an already immersive experience.
A crown jewel in match 3 games category, Jewel Jungle offers hours of enjoyable gameplay for those seeking out their next puzzle adventure. Dive into this shimmering world; whether you're looking to level up your strategy or just want to enjoy some sparkling fun, Jewel Jungle is waiting for its next challenger.
What are the best online games?