Jewel Hunt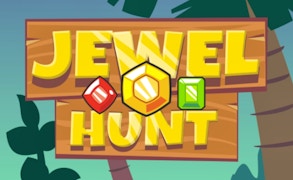 Jewel Hunt
Welcome to the dazzling universe of Jewel Hunt, a classic match-3 game, impeccably masking the charm of bejeweled games with the refreshingly intriguing concept of jewel games. Like a crowning jewel in the suite of match-3 games, Jewel Hunt promises and delivers an unforgettable gaming spree, making it an ultimate must-play for puzzle enthusiasts.
Boasting 40 unique levels, each replete with unexpected twists and thrilling elements, Jewel Hunt leaves no stone unturned in challenging your puzzle-solving skills. Breathe life into your gaming world as you venture through these assorted levels where every stage has a surprise up its sleeve. Ensure you have your strategy in place before diving headfirst into this world of sparkling gems.
If you thought this was it – there's more! Jewel Hunt boasts an endless game mode where the real fun awaits. In this mode, it's all about the combos! One well-planned move can trigger a chain reaction of eliminations, flooding your screen with mind-blowing animations and showering you with bonus points. The heart-thrusting anticipation of these combo bonuses is what makes Jewel Hunt stand head and shoulders above other bejeweled games.
Incorporating elements from both jewel games and match-3 games genres, Jewel Hunt truly is pearl in a sea of pebbles. Whether you're a seasoned veteran or new to puzzle games, this gem is designed to cater to all skill levels providing both challenging gameplay for experts and easy-to-understand mechanics for beginners.
Jewel Hunt isn't just a game; it's an adventure into a shimmering realm of jewels where every match is a quest towards gleaming glory. Immerse yourself into this addictive saga, and let your mind be captivated by the strategic depths offered by one of the finest examples of match 3 and Bejeweled games ever created.
What are the best online games?