Jamir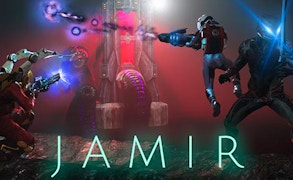 Jamir
Description
Welcome to Jamir, a riveting, high-speed action-packed, first-person shooter game. Set in a surreal science fiction world, your objective is to vanquish hostile creatures and opponents with strategic adeptness and firepower. You can augment your character's abilities, enhance your weaponry, and stock up on crucial items to increase your potency in the battlefield. Rise through the ranks and become globally renowned for your unmatched might.
How to play
In Jamir, navigate using the keyboard's WASD keys while aiming and shooting with the mouse. Use the 'E' key to interact with objects & items. You progress by successfully deferring enemies using your upgraded weapons and acquired abilities. Managing resources wisely for character improvement and weapon enhancement is critical for success. Dominate other players, earn points and climb the leaderboard.
Tips and Tricks
Stay on the move in Jamir, a stationary target is an easy kill. Make use of cover around you while battling; it provides protection from enemy fire. Continually upgrade your weapons and abilities as you gain points. Learning to aim accurately will provide an advantage during combat.
Features
Engaging fast-paced action in a sci-fi environment.
Upgradeable skills, gear, and weaponry ensure intense gameplay.
The leaderboard system that promotes fierce competition among players.
A vast arsenal of weapons at player's disposal.
A variety of unique abilities to defeat enemies.
What are the best online games?