Jake Black Cat 2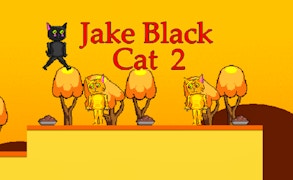 Jake Black Cat 2
Description
In the thrilling sequel to the original, Jake Black Cat 2 offers a captivating 2D platformer experience. You assume the role of a brave black cat on a mission to gather bowls of cat food whilst evading a variety of obstacles that include adversary cats, automated flying felines, and dangerous traps such as spikes and saws. With the challenge rising over 8 diverse levels, the goal remains to safely reach your cat house and progress further.
How to play
The game is controlled using either "WASD" or "Arrow" keys for movement. To jump, press the "W" or "Up" arrow key once, while double-tapping these keys will perform a double jump. Your objective is to collect all cat food bowls and successfully reach your cat house without falling victim to any hazards.
Tips and Tricks
Timing is key in this game; watch your enemies' patterns and strike at the right moment. Utilizing your double jump can help dodge difficult obstacles or reach higher platforms. Always keep an eye out for flying enemies as they tend to be more unpredictable.
Features
Vivid 2D Graphics: Enjoy smooth gameplay with immersive visual elements.
Challenging Obstacles: A variety of traps and enemies adds complexity to the game.
Diverse Levels: With 8 unique levels, each offering a different challenge.
Innovative Gameplay: Double jumping feature for added dynamics in gameplay.
What are the best online games?
Tags