Jake Black Cat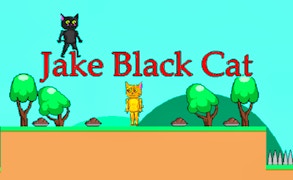 Jake Black Cat
Description
Embark on an exhilarating adventure in Jake Black Cat, a captivating 2D platformer. The game casts you as a celebrated black feline, tasked with the mission of gathering precious cat food bowls. But beware! Hordes of hostile cats, sharp spikes, and deadly saws stand in your path. With eight increasingly challenging levels to conquer, your ultimate goal is to return safely to your cat house.
How to Play
In Jake Black Cat, the "WASD" or "Arrow" keys drive the character's movement. Use "W" or the "Up" arrow key for jumping and hit twice in quick succession for a handy double jump. Clearing obstacles and foes whilst gathering all food bowls is essential for progressing to subsequent levels.
Tips and Tricks
Perfect your double jumps; they can be vital for evading enemies and navigating through difficult terrains. Also, timing is crucial when facing off against hostile cats or dodging spikes and saws. Don't rush, plan your moves carefully!
Features
Fascinating 2D platformer gameplay with rich graphics.
Eight intense levels of increasing difficulty.
A range of adversaries including enemy cats, spikes, and saws.
Simple control scheme suited to both beginners and experienced players alike.
What are the best online games?