Island Monster OffRoad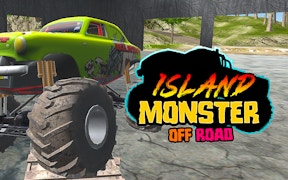 Island Monster OffRoad
Calling all petrolheads! Buckle up for a wild ride as we dive into the adventurous world of Island Monster OffRoad, a standout entry in the universe of car games and truck games.
This is not just your average driving game. It's an exhilarating journey into rugged terrains where you, an indomitable off-road driver, take the wheel of monster trucks to conquer treacherous peaks and valleys. With its real-world physics delivering nail-biting realism as you navigate mountain trails and coastal routes, Island Monster OffRoad sets new benchmarks in the exciting genre of offroad games.
Mastering control of your roaring beast on wheels is one thing; doing it while executing daring drifts is a whole different ball game. The smooth controls coupled with breathtaking graphics make this one of the best drifting games available right now.
The excitement doesn't stop there. Island Monster OffRoad offers a unique 2-player split-screen mode, placing it head and shoulders above typical 2 player games. Invite your friends over to take part in electrifying duels that will test your driving mettle against each other. Who will be the ultimate driving master? Only time - and a whole lot of revved-up racing - will tell!
In conclusion, Island Monster OffRoad blasts onto the scene with its impeccably realistic physics, challenging terrains, compelling gameplay modes and stunning visuals. Whether you're a fan of car games or truck games or if drifting along challenging terrains is more your speed - Island Monster OffRoad has something to offer for every gaming enthusiast out there. Start your engines and get ready for an action-packed ride!
What are the best online games?