Infinite Heroes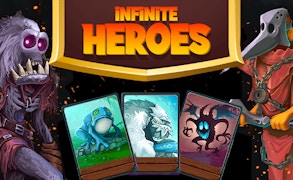 Infinite Heroes
Description
In Infinite Heroes, step into a magical realm and test your card playing skills against an array of monsters. This captivating card-based board game challenges you to outwit evil forces using cunning strategies. Command creatures, wield artifacts, cast spells, and control powerful heroes in your quest to vanquish the Demon. With each victory, gather loot and level up while encountering increasingly powerful foes.
How to Play
To play, select a hero and set your eyes on defeating the demonic forces. The gameplay unfolds as you draw cards featuring various creatures, spells, artifacts, and more. Use these cards strategically to overpower your adversaries. As you win battles, earn treasures and loot that bolster your strength for future fights.
Tips and Tricks
Smart strategy is key in Infinite Heroes. Choose your cards wisely and be inventive with their combinations for maximum impact. Continually upgrade your loot to stay ahead of the increasingly challenging enemies. Utilizing portals effectively can give you an edge in battles.
Features
Adventure Mode: Pick a hero and fight off all enemies.
Diverse Locations: Travel through mountains, forests, swamps, deserts, to volcanic lands.
Endless Combinations: Unique mix of enemies, treasures, and portals in each battle.
What are the best online games?