Incredible Box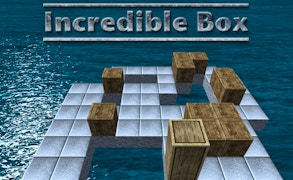 Incredible Box
Description
Incredible Box is a beautifully crafted 3D puzzle game that lies within its simplicity. The main objective involves maneuvering a box towards a specified target. Despite its seemingly simple rules, the complexity unfolds with each level, promising a fun yet challenging gaming experience. Every stage is thoughtfully designed, offering intriguing puzzles that push your problem-solving skills to the limit.
How to Play
The game controls are easy to understand yet hard to master. You simply touch and roll the box to move it towards the goal. However, you'll have to think critically about each move to avoid pitfalls and traps on your way. Progress in the game depends on successfully navigating through different levels, each offering unique challenges.
Tips and Tricks
In Incredible Box, always think several moves ahead before rolling the box. Plan your route, anticipate potential pitfalls and stay patient as hasty moves might lead you into difficult situations. Use the solution provided for each level as only a guide, but aim to solve the puzzles on your own for utmost satisfaction.
Features
Gorgeous 3D graphics: The game boasts beautiful 3D rendering with stunning water effects.
Plethora of puzzles: Numerous levels of mind-bending puzzles that will keep you engaged and entertained.
Solutions provided: To mitigate frustration, solutions are provided for all levels, making sure you can progress through the game at a comfortable pace.
Addictive gameplay: Simple yet challenging gameplay mechanics engenders an addictive gaming experience like none other.
What are the best online games?