Impostor Differences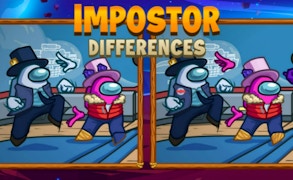 Impostor Differences
Attention all lovers of brain games and memory games, it's time to embark on an exciting journey through Impostor Differences, a thrilling game specially designed for the young ones, yet equally captivating for adults. This is not your average children's game, it is an adventure that will stimulate your mind and challenge your powers of observation.
The concept is as intriguing as its name; you'll find yourself in the company of scheming impostors and unsuspecting crewmates, navigating through ten levels of fascinating puzzles. The primary task? To hunt for the subtlest differences hidden inside each level.
This is an exceptional game for kids, designed to encourage their mental agility and attentiveness. It's not just a game; it's a cognitive workout that will stretch the minds of players regardless of age. And yet, here lies the ingenious twist - each wrong click brings you closer to the game's end. Three missteps and it's time to start over!
In a world full of fast-paced action games, Impostor Differences comes as a refreshing breather. It is meticulous, requiring players to pore over every detail, rewarding those with patience and sharp eyes.
What makes Impostor Differences even more engaging is its user-friendly interface. Each difference found is smartly marked with a circle, ensuring you don't circle back in confusion. Furthermore, the differences are artfully crafted - small and barely noticeable unless you cast a discerning look.
In summary, Impostor Differences takes you on an extraordinary expedition into the world of puzzle games. It's not just about finding what's different; it's about enhancing focus, memory, and attention while enjoying every minute. So if you're up for a brain-teasing challenge wrapped in an intriguing plotline – this game is a must-try!
What are the best online games?
Tags