Impossible Bus Stunt 3D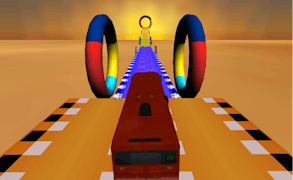 Impossible Bus Stunt 3D
Looking for a wild ride in the gaming world? Say hello to the Impossible Bus Stunt 3D, a potent mixture of high octane truck games and nerve-wracking driving games. It offers players an adrenaline-pumping experience that is second to none, making it one of the best offroad games on the market.
The game thrusts you into a thrilling world of gravity-defying stunts where you can showcase your prowess in executing high risk maneuvers on mega ramps. This isn't just about clocking in high speeds or breaking records; it's a test of precision, timing and vehicular control - essentially, this is not just one of the regular racing games but also a fantastic addition to skill games.
True to its name, Impossible Bus Stunt 3D sets before you challenges that seem virtually impossible at first glance. But as every hardcore gamer knows, 'impossible' is just another word for 'challenge accepted'. The game teases your competitive spirit, pushing you to unlock bigger and better buses while nailing down every single stunt on those intimidating mega ramps.
Each bus in your collection is unique with its own set of strengths and weaknesses, which adds an extra layer of complexity to the Skill Games. Along with intense stunts, expect a touch of destruction as you conquer each level — it's chaos and creativity rolled into one.
The graphics are stunning and realistic, complimenting the intense nature of this game. The sound effects are spectacular too. You can almost hear the roar of your bus engine as you charge up those mega ramps!
In conclusion, Impossible Bus Stunt 3D is much more than just a game - it's an adventure that cranks up your heartbeat with every twist and turn! If you're yearning for thrilling truck games or pulse-pounding driving games or even skill based offroad games then this is certainly worth checking out!
What are the best online games?