Idle Destroyer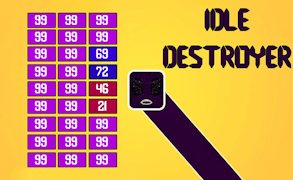 Idle Destroyer
Description
In Idle Destroyer, you control a fleet of powerful destroyers, tasked with obliterating countless blocks. This classic idle game features 6 varieties of destroyers, each with unique speeds and strengths. The game offers plenty of upgrades, along with a bonus and prestige system to multiply your destructive power. It also includes an achievement system to reward your progress and dedication.
How to play
The gameplay is simple, yet addictive. Your destroyers automatically demolish blocks, but you can boost their performance by upgrading them using the game's currency, earned from destroyed blocks. Each destroyer type provides unique capabilities that you need to utilize efficiently. The bonus, prestige, and achievement systems allow you to further amplify your progress and get rewards.
Tips and Tricks
A good strategy is key to progression in Idle Destroyer. Prioritize upgrading your destroyers often for increased block destruction speed. Make smart use of the bonus system by saving it for tough challenges. Don't forget to take advantage of the prestige system once progress slows down; it will reset your game but significantly boost your overall performance.
Features
Six types of unique destroyers with varying strengths and speeds.
A large number of upgrades for each destroyer type.
An engaging bonus and prestige system that encourages strategic play.
A rewarding achievement system that tracks your progress.
What are the best online games?