Idle Cat Town Clicker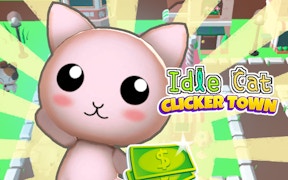 Idle Cat Town Clicker
Description
Discover the feline appeal of Idle Cat Town Clicker, a whimsically engaging idle clicker game. Your mission is pretty clear: become the wealthiest cat tycoon in the city by repeatedly tapping your way to prosperity. This game is not just about money; it's also about city building. As your wealth grows, so do the opportunities to develop your own unique cat metropolis.
How to play
This game revolves around the simple yet addictive mechanism of repetitive clicking. With each successful tap, you earn in-game currency that you can use to expand your thriving cat city. The progression system is autonomous and continues even when you're offline, allowing you to accumulate wealth over time. Don't underestimate the importance of consistent clicking! It's all part of becoming a mogul in this feline world.
Tips and Tricks
Frequent play and persistent clicking can accelerate your journey towards prosperity. But don't forget to strategically invest your earnings - this is a key aspect of growing your cat city faster. Also remember, progress happens even when you're not playing - keeping coming back for more rewards!
Features
Engaging gameplay: Simple clicker mechanics are easy to grasp but offer deeper layers of strategy and enjoyment.
Cute characters: Countless adorable cats ready to join your bustling city.
Creative freedom: Develop and customise your personal Cat Town any way you like!
Persistent progress: The game continues while offline; come back anytime to collect accumulated earnings!
What are the best online games?