Ice Cream Inc.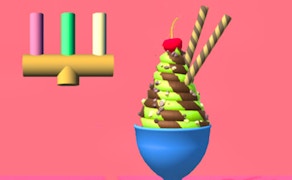 Ice Cream Inc.
Get ready to indulge your sweet tooth in the delightful world of Ice Cream Inc., the latest sensation in puzzle games arena. In this innovative blend of cooking games and coloring games, you'll find yourself on a mouth-watering journey to concoct various delicious ice creams.
The game's mechanics might seem deceptively simple but it takes careful precision and strategy to mimic the picture-perfect ice creams on the top of your screen. Each selection you make, every flavor you layer has implications for your final creation akin to a game of chess - making Ice Cream Inc. one of those rare brain games that test your observational and decision-making skills just as much as they do your creativity.
The game's progression is beautifully balanced, gradually increasing in complexity, ensuring that it remains captivating for beginners while providing a stimulating challenge for veteran players. The impressive variety of ice cream flavours and toppings keeps gameplay fresh and intriguing, ensuring that boredom is an ingredient distinctly lacking in Ice Cream Inc.'s exciting recipe.
The tantalizing visuals are an absolute treat for the eyes, with each ice cream cone looking so scrumptiously real you'll be tempted to take a bite right off your screen! Paired with an endearing music score which perfectly complements the gameplay, creating an immersive gaming experience that is thoroughly enjoyable.
In conclusion, Ice Cream Inc. is an impressively crafted title that successfully merges creativity with challenge. The game indeed elevates the genre of cooking-cum-coloring games into an entirely new and entertaining level. An absolute must-play for fans of brain games or anyone looking for a delightful gaming treat!
What are the best online games?