Hungry King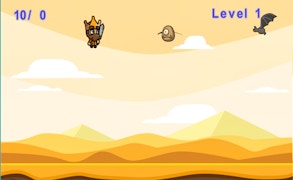 Hungry King
Description
Embark on a thrilling adventure with Hungry King, an addictive arcade game that's both entertaining and challenging. As the Hungry King, your mission is to capture the birds that fly across your kingdom. But beware, as swooping bats aim to thwart your quest! These elusive creatures add an extra layer of challenge, making each level increasingly difficult to conquer. Do you have what it takes to navigate the Hungry King through this dynamic obstacle course?
How to play
Controlling the Hungry King is straightforward. Use the arrow keys or swipe on your screen to move and jump towards the birds. Each bird caught is a point earned. However, remember to skillfully avoid the bats; colliding with them will end your game prematurely. The key is to balance precision with speed, capturing as many birds as possible while swiftly dodging bats.
Tips and Tricks
To master this game, focus on anticipating the bats' flight path. This will give you enough time to dodge them and continue capturing birds. Also, remember there's no harm in missing a bird if it means avoiding a bat. Safety first!
Features
Vibrant Graphics: The game features colorful visuals that make gameplay more engaging.
Variety of Levels: Each new level presents different challenges, keeping players captivated at every stage.
User-friendly Controls: With easy-to-use controls suitable for all ages, anyone can join the fun!
Addictive Gameplay: The consistency of the game mechanics ensures a continuous flow of action, ideal for those seeking a steady gaming challenge.
What are the best online games?