Humi Bot 2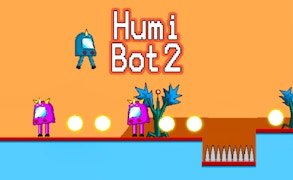 Humi Bot 2
Description
In Humi Bot 2, you'll embark on an exciting sci-fi journey, navigating through a world filled with danger and opportunities. Command a small robot in this 2D platformer, dashing through eight distinct levels that pose increasing challenges. Your mission is to gather yellow orbs while navigating past obstacles such as spikes and enemy robots. Each new level offers unique challenges, making your journey to the exit door thrillingly unpredictable.
How to play
Game navigation is simple but requires strategic movement and timing. You can control the robot using "WASD" or "Arrow" keys for moving around. You'll encounter areas requiring a double jump, which can be done by pressing the "W" or "Up" arrow key twice quickly. Collect orbs and reach the exit door to unlock subsequent levels with more challenging gameplay.
Tips and tricks
To succeed in Humi Bot 2, it's essential to master the double jump and time your movements precisely. Keep an eye out for patterns in enemy movements - this will help you avoid them more effectively. Lastly, always be on the lookout for hidden orbs; they might not be directly on your path.
Features
Dynamic Gameplay: With eight levels that progressively increase in difficulty, gamers are presented with new challenges at every turn.
User-friendly Controls: Simple "WASD" or "Arrow" keys control makes navigation accessible for all player levels.
Futuristic Setting: The game's sci-fi theme adds another layer of intrigue to each mission.
Obstacles: From spikes to enemy robots, the various challenges make each level unique and exciting.
What are the best online games?