Hospital Doctor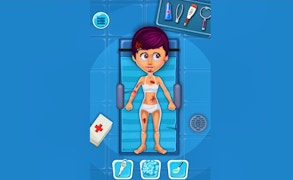 Hospital Doctor
Step into the fast-paced and intriguing world of medical professionals with the highly engaging Hospital Doctor game. Fusing fun and learning in one platform, this splendid addition to operation games is a treasure trove that children, especially girls, would find irresistible.
The vibrant good graphics will undoubtedly catch your eyes as you navigate the exciting hospital scenes. There's an impressive level of detail incorporated into each scene that dramatically brings the game to life, increasing its appeal among its targeted audience - games for kids.
Each character in Hospital Doctor has its own unique touch, making them distinctive and memorable. The multitude of characters adds a layer of depth to the gameplay, keeping young players intrigued as they explore different roles within the hospital setting.
Hospital Doctor surpasses expectations not only among typical operation games, but also sets a new standard for games for girls. The diverse activities in various medical scenarios stimulate curiosity and promote learning in a fun-filled environment.
In conclusion, Hospital Doctor is an outstanding addition to your child's game collection under the tag of Games for Kids. Its superb graphics coupled with engaging gameplay fosters creativity while educating young minds about hospital operations. It's not just about fun; it's a gateway to learning!
If you're looking for an entertaining yet educational activity for your child, indeed Hospital Doctor magnificently fits that bill. Watch your child immerse in this engaging world of doctors and nurses, illustrating how learning can indeed be fun! Enjoy a unique gaming experience today with Hospital Doctor.
What are the best online games?