Emergency Surgery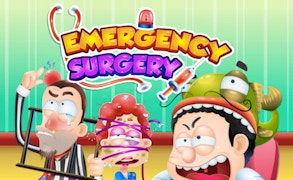 Emergency Surgery
Step into the exhilarating world of medical drama with the innovative game - Emergency Surgery. Specially designed for the younger audience, this joyful yet instructive game for girls and boys alike takes you on a roller coaster ride through the hallowed halls of an animated ER.
Wearing the white coat of compassion, you'll be making crucial decisions, performing pivotal procedures, and saving virtual lives. This is not just about playing doctor; it's about understanding and empathizing with your digital patients. It's engaging, it's fun, it's one of those unique operation games that let imagination soar while aiding in knowledge absorption via real-life situations.
The charm of Emergency Surgery lies in its brilliant blend of humor with learning. It adapts to the playful spirit of children while subtly imparting them with life skills like critical thinking and problem-solving. Importantly, it also sensitizes them towards health issues and survival struggles.
This game goes beyond treating humans; it extends its medical marvel to caring for animals too, making it an addition to the realm of animal games. The developers have understood that today's children are not just gamers but nurturers who care for their pets. They will certainly relish the opportunity to play veterinarian and take charge as an animal savior.
In conclusion, Emergency Surgery is a delightful divergence from regular kids' games. It's an entertaining educational tool that blends serious reality with fun-filled fantasy—an ideal game that parents can entrust their children with.
What are the best online games?