Horse Ride Racing 3D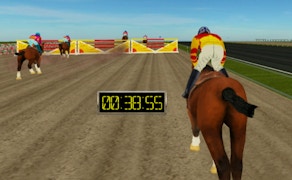 Horse Ride Racing 3D
For those who have a penchant for racing and a soft spot for equines, your ultimate running games experience has arrived. Welcome to the gripping realm of Horse Ride Racing 3D, a game that adeptly combines the thrill of racing with the allure of animal games.
First off, let's dive into the fun gameplay. Horse Ride Racing 3D isn't just another title in the crowd of horse games out there. This game fires up the adrenaline, puts your dexterity to the test, and pushes against your strategic limits. Imagine the wind streaking through your mane as you gallop past rivals and obstacles alike. It's a whirlwind running game experience that leaves you craving for more.
But what is a racing game without some personal touch? Horse Ride Racing 3D presents an array of multiple horse skins. Gallop towards victory on a Chestnut beauty or charge through checkpoints on a fiery Black Stallion, the choice is all yours. Each skin adds an additional dimension to this animal racing game and reinforces its immersive nature.
This one-of-a-kind blend of horse games and running games ensures you are never far from high-octane Racing action mixed with captivating elements of animal lore. With fun gameplay that encourages repeated playthroughs and diverse horse skins enhancing its replayability factor, Horse Ride Racing 3D offers an intense, immersive gaming experience that both casual players and hardcore gamers can appreciate.
In summary, whether you're a seasoned gamer endlessly seeking new worlds to conquer or a novice getting your feet wet in the thrilling universe of gaming, Horse Ride Racing 3D has something unique to offer in its mix of horse games and running games. So saddle up gamers... The race has just begun!
What are the best online games?