Horse Jumping Show 3D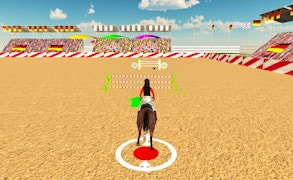 Horse Jumping Show 3D
Welcome to the exciting world of equine adventure with the sensational Horse Jumping Show 3D. This game falls perfectly under the umbrella of horse games, animal games, and skill games. It has been meticulously designed to offer a thrilling gameplay experience for those who possess an undying love for riding<. This game will not only quench your thirst for equestrian adventure but also test your coordination skills, making it a fantastic addition to your virtual gaming stable.
The exhilarating Horse Jumping Show 3D has you saddle up on a magnificent stallion, race against time, and jump over obstacles, all whilst experiencing the true beauty of horse riding. The allure of this game isn't just limited to its stunning graphics and realistic animation but also extends to its intuitive controls (WASD for Control, F to saddle a horse, 1-3 to manage speed, and Space to jump). This easy-to-understand yet challenging-to-master mechanism ensures that players are always on their toes.
As you make your way through various tracks while atop your steed in this enthralling horse running game, you'll be required to showcase agility and precision. But worry not! Changing speeds have never been smoother with one simple keystroke. Such detailed aspects help give depth to this game and make it stand out from other typical animal games.
Horse Jumping Show 3D encapsulates an authentic horse riding experience and is sure to fulfil your equine passion. Its combination of breath-taking visuals, invigorating gameplay challenges and realistic dynamics makes it one of the most engaging horse games available. It's not just a game; it's an exhilarating ride into the world of equestrian sport!
What are the best online games?