Horse Care and Riding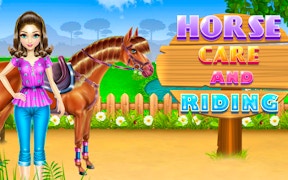 Horse Care and Riding
If you've always dreamed of owning a majestic horse and experiencing the joy and responsibility that comes along with caring for them, then the game Horse Care and Riding is meant for you. This is an absolute delight to add to your collection of games for girls, especially if you are a fan of unique animal games.
The game transports you into a world where you get to take care of your very own stallion. The caring process is comprehensive and incredibly realistic, making it one of the standout features of this game. It mimics real-life scenarios, giving players an immersive experience in horse care. This feature adds a whole new dimension to regular horse games, turning chores into fun activities.
A major highlight is the dress up part. It's not just about caring, feeding, or cleaning your horse. You can also adorn your horse with beautiful accessories and gear that make them stand out aesthetically. This aspect brings an element of creativity and personalization that most animal games lack, making Horse Care and Riding one-of-a-kind dress up games.
But this game doesn't stop at merely caring and dressing up your horse. The most anticipated part lies ahead — the riding! Saddle up and take on thrilling rides across beautiful landscapes. The riding mechanics are smooth, providing an experience as closest as it can get to riding a real horse.
Horse Care and Riding brings out the joy of taking care of your very own stallion while enjoying the thrill of riding it across stunning terrains. It's a delightful addition to any collection of games for girls, offering hours of fun-filled amusement that goes beyond regular animal or dress-up games. A must-try for anyone who loves horses!
What are the best online games?