Homer City 3D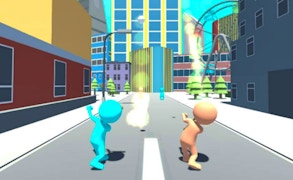 Homer City 3D
Step up to the plate with Homer City 3D, one of the most dynamic baseball games that you'll encounter in the world of stickman games. This game offers a unique thrill as it fuses the world of sports and action in a way that gets your adrenaline pumping!
This isn't your typical game of catch. Homer City 3D takes a whip at tradition, swapping out the usual baseball mitt for a window. That's right - you'll be expertly hurling baseballs to shatter glass panes, creating a spectacle of glittering debris. It's a sight that never gets old, especially when coupled with the stickman animations.
The visuals are clean, sleek, and tailored for intense displays on your mobile device. Moreover, this game stands out in the saturated genre of ball games, courtesy of its innovative play-style and immersive atmosphere.
We all love stepping into the shoes – or rather cleats – of our favorite player to land successive homers. However, in this high-octane stickman game, you'll be aiming for consecutive glass shattering shots instead - an exhilarating experience that challenges your precision and timing skills like never before!
In addition to its engaging gameplay mechanics, Homer City 3D is also rife with opportunities for upgrades. Whether it's boosting your throw power or enhancing your swing accuracy, there's no shortage of ways for you to level up your game.
Whether you're an avid fan of baseball games, a lover of fast-paced excitement found in typical stickman games, or just looking for an exciting new twist on ball games, Homer City 3D undoubtedly hits it out of the park!
What are the best online games?