Home Makeover: Hidden Object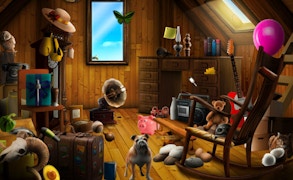 Home Makeover: Hidden Object
Welcome to the enchanting world of Home Makeover: Hidden Object, the thrilling Adventure game that set off an enthralling four-part series. This game brilliantly integrates the fun and intrigue of classic Hidden Object Games, truly giving gamers a riveting and memorable experience.
The stage for this captivating epic is an adorable old house nestled behind a charming white picket fence, a place where time seems to have stood still. Emma's grandparents' abode, once vibrant and full, now yearns for a much-needed home makeover. This isn't just any sprucing up, however. It's a grand opportunity for players to dive into an interactive realm filled with engaging hidden object challenges.
As players rally to breathe vitality back into this quaint old house, they are tasked with scouring through years of accumulated belongings, polishing hidden gems from under heaps of junk in this heartwarming hidden object game. From exchanging drab paint for dazzling wallpaper to trading outdated furniture with modern alternatives, this game extends beyond mere renovation.
Home Makeover: Hidden Object offers an exciting financial twist too. Players can sell off discovered items to enthusiastic virtual neighbors earning money for redecorating the house in their unique style. The gameplay is vast and varied with over 10 ways to search for hidden objects ensuring that monotony never seeps in.
This adventure isn't just about finding objects; it's also about keeping track of time and flexing your match-3 muscles! So whether you are a seasoned campaigner of Hidden Object Games, or someone brimming with curiosity about this genre, Home Makeover: Hidden Object promises to offer a raw blend of excitement, adventure, and nostalgia!
What are the best online games?
Tags