Hohoman vs Chu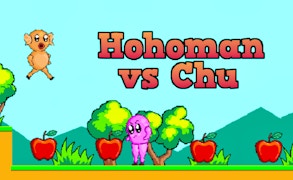 Hohoman vs Chu
Description
In Hohoman vs Chu, navigate through 2D platforms as you play a lovable character on a mission to gather all the apples. However, your task is not easy, as an array of enemies, sharp spikes, ground saws and challenging terrain are waiting to hinder your path. With each successful exit door you reach, the levels become more twisted and intense, making this game a continually thrilling experience.
How to Play
Steer your character with either the "WASD" keys or the "Arrow" keys. To jump over obstacles or reach higher platforms, press "W" or "Up Arrow" twice for an additional leap. Your goal is to collect all apples and get to the exit door without hitting any obstacle.
Tips and Tricks
To excel in Hohoman vs Chu, time your jumps precisely to dodge hazards. Also remember that some enemies can be jumped over while others can't. Be vigilant and learn from each encounter to progress through levels smoothly.
Features
Cute anime-style 2D graphics.
Challenging obstacles and enemies in every level.
A total of 8 levels with growing difficulty.
Addictive platformer gameplay reminiscent of classic titles in this genre.
What are the best online games?