Hockey Shootout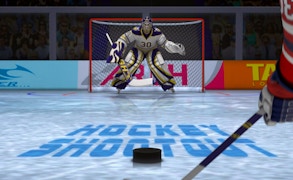 Hockey Shootout
Immerse yourself in the thrilling world of hockey games with Hockey Shootout, a riveting HTML5 Sport Game guaranteed to pique your competitive instincts. This game isn't just another addition to the sports genre, it's a bona fide showdown where your skills are tested in real-time.
The essence of Hockey Shootout revolves around you controlling a puck with menace and precision whilst charging towards the stationary goalkeeper. This game is not for the faint-hearted, it's an epic face-off that mirrors the intensity of genuine on-ice hockey battles. The adrenaline rush is palpable as you strike the puck with power, aiming to outwit the stalwart defense formed by the goalie.
If you've been longing for ball games that capture authentic sports dynamics coupled with engrossing gameplay, then Hockey Shootout triumphantly fills that void. It blends nuanced hockey mechanics with an interactive streaming design providing you an experience that's both electrifying and realistic.
Hockey Shootout doesn't just replicate the thrill of real-world hockey matches but transforms your screen into a virtual rink where every shot counts and every save matters. The gameplay demands quick reflexes and strategic movements, ensuring a heart-pumping gaming session that will keep you hooked for hours on end.
So step into your skates, grip your stick tight, and gear up for an exhilarating sports gaming experience like no other! Hockey Shootout is not just about who scores more goals; it's about who has what it takes to be a champion in this high-stakes virtual hockey arena.
What are the best online games?
Tags