Hexoboy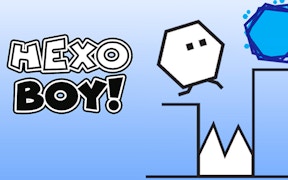 Hexoboy
Delve into a world filled with hexagonal puzzles and charming adventures with Hexoboy, the latest addition to the bustling realm of skill games. This free-to-play platformer game seamlessly blends fun games and escape games to create a refreshing experience that is sure to captivate the hearts of adventure lovers.
Hexoboy, not just a game but a journey, introduces us to a lovable hero who needs your wits and dexterity. The hero's mission? Solve intricate puzzles, navigate through treacherous terrains, perform daring leaps, and most importantly, escape with victory. With each level designed as a complex jigsaw of hexagonal tiles, your skills will be put to the ultimate test.
This game is not just about skill but also about strategy. The trick lies in figuring out the correct combination of tiles to help our hero reach his goal. Our brave protagonist may appear small in stature but his heroic spirit coupled with your tactical prowess makes him formidable. Each successful escape amplifies your triumph within this fun-filled escapade.
The artistry deployed in Hexoboy's layout is truly commendable. With its vibrant color palette and detailed textures, it effortlessly transports you into this unique adventure landscape where every puzzle solved feels like an achievement unlocked. Furthermore, this feast for the eyes runs smoothly on all platforms ensuring an uninterrupted gaming session.
In conclusion, Hexoboy is much more than just another addition to adventure skill games or mere escape titles; it is a testament to the realm of innovative fun games that challenge your mind while tickling your adventure bone! Be it for seasoned pros or casual gamers seeking some adrenaline rush - Hexoboy stands out as an engaging escapade wrapped in addictive gameplay.
What are the best online games?