Hexa Merge Puzzle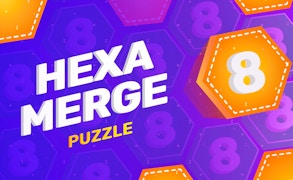 Hexa Merge Puzzle
Description
Hexa Merge - Puzzle is an intriguing and captivating block-based number puzzle game that offers a unique blend of fun and mind-bending challenges. This brain-stimulating game offers a simple logical structure that requires intellect and skill to master, making it an excellent tool for exercising the brain. The game's design suits all age groups ranging from kids to adults, offering a thrilling gaming experience.
How to play
Playing Hexa Merge - Puzzle depends largely on your ability to combine blocks of similar numbers strategically. These blocks merge to form larger numbers that offer more points. The game has no time limit, making it ideal for players who enjoy taking their time in planning their moves meticulously. Ultimately, your goal is to clear the board for as long as possible.
Tips and Tricks
The key to success in Hexa Merge - Puzzle is strategy. Avoid random merging; instead, try to gather similar numbers in one area for effective merging later. Also, make use of the provided bonuses effectively; they can be real game changers when used properly.
Features
A variety of ready-to-use themes for a personalized gaming experience.
Suitable for all age groups.
Numerous helpful bonuses that aid gameplay progression.
A soothing night theme option, perfect for a relaxing pre-sleep gaming session.
What are the best online games?