HeroJump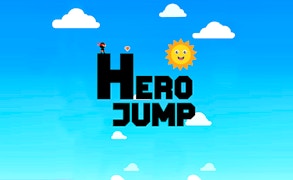 HeroJump
Description
In HeroJump, you take on the role of a skillful Ninja, tasked with overcoming various obstacles by executing perfect jumps. Navigate through increasingly challenging levels filled with treacherous pits and traps that require quick reflexes and precise timing to conquer. This addictive arcade game will test your agility, patience, and ninja jumping skills to the extreme!
How to play
Control your Ninja using simple yet intuitive mechanics. Tap or click on the screen to make your Ninja jump. Timing is critical - jump too soon or too late and you'll fall prey to one of the many obstacles. Progress through the game by clearing each level successfully. Your ninja jumping skills will surely improve as you advance.
Tips and Tricks
Patience is key in HeroJump. Don't rush through the levels; instead, take time to study the patterns of moving traps. Perfecting your timing can often be a matter of life or death for your Ninja. Remember - as a Ninja, agility and precision are as important as speed.
Features
Simple but challenging gameplay suitable for all ages.
A variety of exciting levels with increasing difficulty.
Arcade-style graphics with a Ninja theme.
Addictive game mechanics that will keep you coming back for more.
What are the best online games?