Hero Tales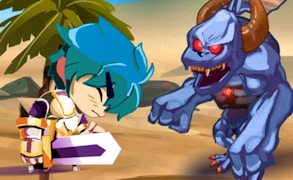 Hero Tales
Welcome to the enchanting and enthralling universe of the critically acclaimed Hero Tales, a front-runner in the all-action, high-octane mix of RPG and action genres. This game, which is seething with peril at every step, caters to the running games and sword games enthusiasts by serving up an appetizing blend of both.
In Hero Tales, you find yourself immersed in an awe-inspiring fantasy world teeming with ominous monsters but punctuated by breathtaking panoramas. Donning the mantle of a charismatic character armed with unyielding courage, you are entrusted with not just saving your life but vanquishing relentless enemies that cross your path. With each adversary you conquer, though, comes a price to pay—a drain on your life force. Hence the game turns into a meticulous balancing act between launching your attacks and safeguarding your existence.
An intriguing twist in this tale is your remarkable means of rejuvenation—bananas! Not to mention the hearts and tiny apples scattered along your journey. Grabbing these wholesome treats as you dash across terrains can replenish your life pool, giving you an essential lifeline amid this blood-pumping escapade.
The captivating storyline coupled with strategic gameplay makes Hero Tales an epitome of RPG action games that demands both agility and strategy. Whether you're a fan of running games which pump up adrenaline or sword games which require precision and tactics, or just someone who appreciates well-made RPGs—Hero Tales will not disappoint.
In conclusion, Hero Tales is an exhilarating experience where thrilling combat meets strategic resource management—an ideal pick for every gaming aficionado looking for their next big adventure!
What are the best online games?
TAGS