Hero Knight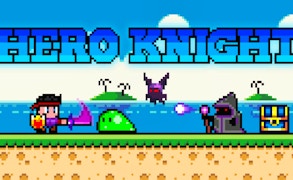 Hero Knight
Step into an epic journey of valor and courage with Hero Knight, a delightful blend of RPG and fighting genres. Awaken your inner warrior in this captivating fusion of knight games and sword games as you beat monsters with your trusty blade and potent spells, leveling up as you gather experience.
In this spectacular fusion of battle games and monster games, Hero Knight invites you to encounter legions of monstrous foes baring fangs, claws, and unimaginably dark magic. But fear not! With HP and MP potions that restore 50% of your health, stay in the heat of combat even when under 50%. The more you fight, the more gold and gems you collect to enhance your attributes and skills.
The visuals are nostalgically enchanting; retro-styled pixel games fans will love the game's aesthetic. With a simple touch-and-hold on the attack button for about two seconds, unleash the magical Power Slash ability—a visual feast that decimates your foes.
The piece de resistance? There is a secret boss lurking somewhere in your adventure. Should you stumble upon this powerful firebird and emerge victorious from this epic showdown, get ready for a legendary transformation. Become the Legendary Fire Knight: an embodiment of fiery strength and heroic resolve!
In conclusion, Hero Knight weaves together elements of knight games, sword games, battle games, monster games, pixel games into a compelling RPG fighting game that will captivate players seeking an adrenaline-fuelled adventure brimming with challenges.
What are the best online games?