Hello Kitty and Friends Jumper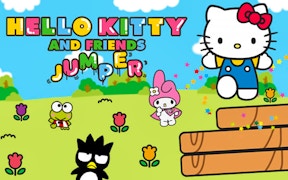 Hello Kitty and Friends Jumper
Be prepared to embark on a delightful and whimsical journey with your favorite childhood characters in Hello Kitty and Friends Jumper. As one of the most enchanting games for kids, this entrancing experience promises unparalleled fun with a dash of irresistible nostalgia.
Nestled within the realm of Hyper Casual Games, this game invites you to tap into your fun side. The premise is simple yet compelling - select your beloved character such as Hello Kitty, My Melody, Kero Kero Keroppi or Bad Badtz-Maru, and tap away on the screen to leap onto newly appearing platforms.
This is no ordinary cat game – it's an innovative blend of classic gaming elements that falls seamlessly into the category of dynamic animal games. The core mechanic revolves around timely jumps, each successful leap bringing you higher into the colorful environments and closer to beating your high score.
The charm of Hello Kitty and Friends Jumper lies in its flexibility and endless opportunities for fun. You can take it slow, enjoying the scenic backdrops as you leisurely navigate through the levels. Or, inject some adrenaline into your gaming time by striving for that elusive high score!
A standout feature is the captivating visuals that are reminiscent of popular Anime games. Each character is beautifully designed, and every environment is bursting with color and personality. This game's aesthetic appeal elevates it beyond a standard arcade offering.
In conclusion, Hello Kitty and Friends Jumper masterfully combines elements of tap games with cute anime aesthetics to create an engaging gaming experience that will appeal not only to kids but also to those who cherish nostalgia and uncomplicated fun.
What are the best online games?