Heavy Machinery Jigsaw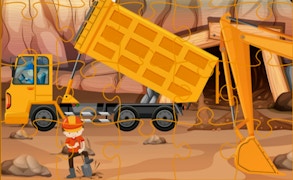 Heavy Machinery Jigsaw
Step into the powerful world of construction and big machinery with the delightful Heavy Machinery Jigsaw. A game that perfectly merges the genres of kids and puzzle games; it is an absolute must-play for all young, curious minds.
Endeared by many as one of the foremost vibrant car games and truck games, Heavy Machinery Jigsaw offers players a thrilling experience through its depiction of colossal vehicles involved in construction works. Laid out against stunning backdrops, these machines command awe in this immersive jigsaw universe.
Intricately designed with three different game modes, each mode boosts a child's cognitive abilities and problem-solving skills while kindling their fascination for heavy-duty machinery. With an option to choose between 25, 49 or 100 pieces for each puzzle, this game enables players to challenge themselves at varying levels of difficulty.
The most exciting aspect is the freedom to choose from five different images. This personalization feature allows your little ones to start off their journey in the order they wish, thereby making this game a favorite amongst many Games for Kids.
The allure lies in successfully arranging all pieces into their rightful places and witness the breathtaking image of a Heavy Machinery come alive on screen. The joy one derives from solving these puzzles is unparalleled as it combines learning with pure fun.
In conclusion, Heavy Machinery Jigsaw stands out as an edutaining masterpiece in the playground of online gaming. It effortlessly brings together elements of fun, learning and competition making it not just another video game but an effective tool for cognitive development. So gear up, choose your image, select your mode and get ready to dive into this extraordinary world of jigsaws!
What are the best online games?