Happy Snakes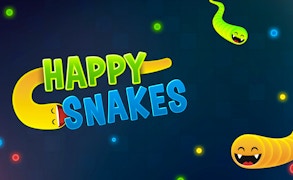 Happy Snakes
Welcome to the exhilarating world of Happy Snakes, an addictive multiplayer online battle that offers a unique twist in the genre of snake games and worm games. This review will delve into the features that make this game a standout in the realm of survival games.
Unleash your primal instincts and revel in a natural selection battlefield where it's either eat or be eaten! Happy Snakes skillfully embodies the thrilling essence of snake and worm games centered around survival. It's truly survival of the fittest, or in this case; survival of the biggest snack-gobbling reptile.
The game's premise is simple yet compelling - eat others to grow happy, and hence bigger. But don't be fooled by its simplicity! As you navigate your snake through a landscape riddled with potential prey and lurking enemies, you'll have to utilize strategic maneuvers to avoid being gobbled up by larger opponents while hunting down smaller ones.
What makes Happy Snakes a standout among other similar multiplayer games is its seamless integration of survival elements within this primal food chain dynamic. In contrast to most survival games that tend to focus on resource management or combat mechanics, Happy Snakes leans on quick reflexes, prediction skills, and tactical decision-making as key components for success.
Hats off to the developers for delivering such an engagingly fun gaming experience without compromising competitiveness. Happy Snakes is an adrenaline-pumping joyride that will keep your gaming senses on high alert, and yet leave you with joyous satisfaction after each encounter.
In conclusion, Happy Snakes is more than just another multiplayer snake game; it's a thrilling safari into the wilds of arcade nostalgia packed with modern-day survival dynamics. A must-try for snake game devotees and newcomers alike. Game on!
What are the best online games?