Happy Farm Solitaire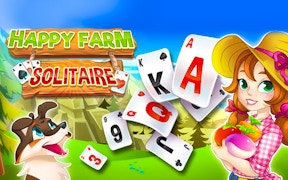 Happy Farm Solitaire
Step into the charming world of Happy Farm Solitaire, a delightful fusion of farm games and solitaire games that seamlessly entwines the pleasure of card tactics with the rustic allure of pastoral living.
Simplicity is at the core of Happy Farm Solitaire, eschewing the complex mechanisms that inundate modern solitaire offerings. The game takes you back to the roots, its classic approach reminiscent of a leisurely country life where things are as straightforward as they appear on this incredibly designed card platform.
This is a game that appeals to your sense of tranquility through its soothing ambiance and highly appealing graphics. The farm-inspired design is reminiscent of a beautiful pastoral landscape, filling your mind with peace and tranquility even in the midst of intense card battles. With exquisite attention to detail, each card exudes a folksy charm that's sure to captivate fans of both farming games and solitaire games.
The gameplay is equally relaxing as it is engaging. Each hand brings a new challenge, but without any unnecessary complexity. This makes Happy Farm Solitaire not only an excellent brain teaser but also an accessible pastime for those seeking to unwind their day with some light gaming.
In conclusion, whether you're a die-hard card player or a casual fan looking for something different, Happy Farm Solitaire hits all the right notes - it's straightforward yet challenging; beautiful yet modest; calming yet captivating. In essence, it embodies the best aspects of farm-themed solitaire games in one charming package!
What are the best online games?