Hand Spinner IO 3D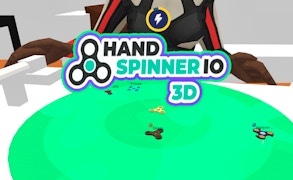 Hand Spinner IO 3D
Immerse yourself in the exhilarating world of Hand Spinner IO 3D, a top-tier .io game that seamlessly entwines the gripping genres of clicker games, tap games, spinner games, skill games, and battle games. This new offering delivers an unparalleled gaming experience by integrating a popular cultural phenomenon - the fidget spinner - into a ferocious multiplayer arena.
In this pulsating game, you take control of your own fidget spinner, skilfully spinning and navigating it to defend against and knock out other players from the ring. The thrill of battle lies in each click and tap, with victory swelling your fidget spinner in both size and power. It's a survival-of-the-spinniest where every elimination makes you a bigger threat.
The allure of Hand Spinner IO 3D is not merely confined to its gameplay; it also places an enticing offer on the table: upgrades. As you progress, you can purchase special enhancements to fortify your spinner; transforming it from a mere toy into a deadly weapon inside the arena. This strategic aspect adds layers of depth to this seemingly simple game, making it equally engaging for casual gamers as well as hardened gaming veterans.
The question at the heart of Hand Spinner IO 3D is simple: Can you dominate the ring? Can your controlled chaos translate into attaining the coveted title of largest and most deadly spinner? With every spin, swipe, tap and click, this game offers an unrivalled adrenaline rush; propelling it to the top of your list if you're on the hunt for addictive .io games.
In conclusion, Hand Spinner IO 3D is more than just another .io offering. It redefines expectation through its innovative utilisation of fidget spinners; creating an engrossing blend of skill-based battles and strategic gameplay wrapped within a visually appealing 3D package.
What are the best online games?