Hand Doctor Game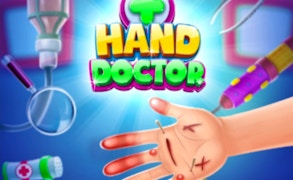 Hand Doctor Game
Deep dive into the fascinating world of Hand Doctor Game, an enthralling operation game designed specifically for kids and girls, offering real-life experiences in a safe, virtual environment. This one-of-a-kind game effortlessly intertwines learning with fun, making it a must-have for young gaming enthusiasts.
The first thing that will strike you about Hand Doctor Game is the exceptional graphics. The creators have painstakingly crafted every element of the game with acute attention to detail, resulting in visuals that are not just appealing but are also incredibly realistic. The vibrant colors and articulate designs will keep your children engaged and hooked for hours!
A standout feature of Hand Doctor Game lies in its multiple skins. This aspect of customization allows kids to tailor their gaming experience according to their preferences. Whether you're a fan of quirky patterns or subtle hues, there is something for all tastes here!
This fascinating operation game packs an educational punch too. It navigates the medical sphere in a kid-friendly way, paving the path for girls and boys alike to explore medical science as they engage in various operations. These games significantly aid in developing problem-solving skills and strategic thinking amongst children.
If you are looking for the best games for girls, games for kids or operation games that are engaging as well as informative, Hand Doctor game may just end your search. Promising hours of entertainment and valuable learning experiences simultaneously, this is a kid's game that stands out from the rest.
Dive into this captivating world of medical science and watch your child blossom into a curious learner as they play along with Hand Doctor game - an ideal blend of entertainment and education.
What are the best online games?