Halloween Match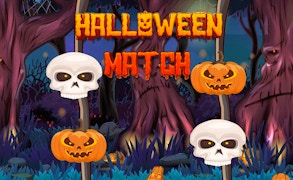 Halloween Match
Description
Dive into the Halloween spirit with Halloween Match, a thrilling arcade puzzle game! Set against the chilling backdrop of Halloween, this game tests your quick thinking and precision. Your mission is to match as many Halloween-inspired symbols as possible within a strict 60-second limit. With each match, experience spooky graphics and haunting sound effects that add to the eerie holiday mood.
How to play
The controls are simple: use your mouse or touchscreen to select two identical Halloween icons. Once you spot a pair, click or tap on them to make a match. Remember, you only have 60 seconds to score as high as you can! Beware, as the faster you play, the more intense it becomes!
Tips and Tricks
Concentration is key in Halloween Match. Stay focused and keep an eye out for possible matches. Making quick decisions also helps achieve a higher score in the reduced timeframe. Take advantage of duplicates, they can give you an extra boost in your time race.
Features
Halloween-themed Graphics: Enjoy festive graphics with classic Halloween symbols.
Festive Audio: Experience spooky sound effects that enhance gameplay.
Time Challenge: Test your speed and accuracy with a strict 60-second limit.
Simplicity: The intuitive design makes it easy for players of all ages to enjoy.
What are the best online games?