Royal Couple Halloween Party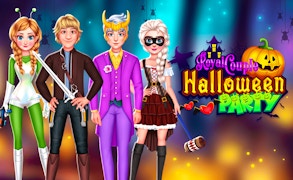 Royal Couple Halloween Party
Description
In Royal Couple Halloween Party, players get the opportunity to step into a magical world of royal ghoulish fun! This game is set in an exciting fantasy world where royal couples are preparing for the much-anticipated Halloween festivities. Your role? To design intriguing costumes for each pair and make this Halloween unforgettable.
How to Play
Playing the game is straightforward; every control is managed by your mouse's click or touch gestures. Browse through their wardrobe and click on outfits to try them on your royal couple. Mix and match different items to create a perfect ensemble. Progress in the game by designing costumes for all couples.
Tips and Tricks
To spice up your designs, don't just focus on individual costumes - try to achieve a thematic outfit for each couple. Also, do not be afraid to experiment with unconventional combinations as they may end up being the most admired outfits!
Features
Vibrant Graphics: The game boasts colorful, eye-catching visuals sure to enchant players of all ages.
User-friendly Controls: Simple point-and-click controls make this game accessible and easy to play.
Creative Gameplay: With endless costume combinations, every playthrough offers a unique experience.
Entertaining Theme: The engaging royal and Halloween theme promises hours of imaginative fun.
What are the best online games?