Halloween Find the Differences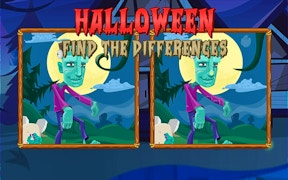 Halloween Find the Differences
If you're on the hunt for scary games to entertain your little ones this Halloween while also testing their observational skills, then you will be thrilled with the game Halloween Find the Differences. Designed as a unique combination of Games for Kids, memory games, and brain games, it adds a fun yet spooky dimension that appeals to kids of all ages. The game play blends thrilling Halloween-themed graphics with a challenging 'Find the Difference' concept to keep your kids entertained for hours.
The game unfolds over ten gripping levels. Each level is an eerie world, meticulously crafted with mesmerizing scares that add up to the excitement of the game. The catch lies in discovering tiny differences between two almost identical images. As players carefully scan each image, their attention to detail is honed, making this an excellent choice amongst brain games and memory games.
But be cautious not to click unnecessarily! If you click wrong three times, the game ends abruptly, keeping players on edge with its high stakes. Once a difference is found, it's marked with a circle – a clever way of ensuring that players do not revisit it while maintaining the game's challenge.
This is more than just one of those run-of-the-mill Games for Kids. It demands focus and pays off in thrilling fun. The Halloween theme adds an extra layer of suspenseful fun making it stand out amongst other scary games. Halloween Find the Differences smartly integrates elements of learning with an exciting theme to create an unforgettable gaming experience.
In conclusion, if you're seeking a delightful concoction of fright and fun which simultaneously sharpens young minds, Halloween Find the Differences should be your top choice this season.
What are the best online games?