Halloween Blocks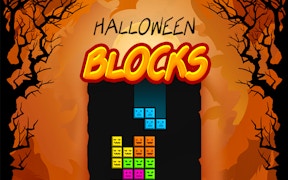 Halloween Blocks
Step into the eerie universe of Halloween Blocks, where the world of Tetris is transformed with a spooky twist. This new iteration on the beloved classic takes block games to a whole new level, injecting it with a dose of exhilarating Halloween spirit that is sure to pump your adrenaline.
The game blends the stimulating challenges inherent in brain games with the fun, fast-paced thrill typical of Tetris games. The result? A puzzle gaming experience unlike any other. With each turn, you're invited to systematically arrange the descending blocks in an effort to keep your game board clutter-free. The Halloween-themed blocks certainly add a fun, thematic twist to this activity, renewing your engagement every step of the way.
But here's where Halloween Blocks truly shines - its perfect balance between strategic thinking and fast-paced action. As you progress, you'll realize that speed and spatial awareness become increasingly crucial. It's this intense mental workout that truly sets Halloween Blocks apart from other block games.
Graphically too, Halloween Blocks impresses with its sleek design and visually appealing color scheme inspired by the horror-filled festive season. The sound effects further enhance this eerie atmosphere, making for an immersive Tetris experience that will leave you spellbound.
In summary, Halloween Blocks is much more than just another addition to the pool of Tetris games or brain games; it's a chilling yet refreshing take on block games that not only tests your intellectual mettle but also fills your gaming hours with uninhibited fun.
Unearth the thrill of puzzle-solving like never before with this captivating game of Halloween Blocks - where every block counts and every move matters!
What are the best online games?