Halloween Bingo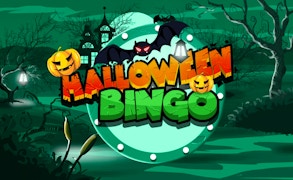 Halloween Bingo
As the chill of October sets in and the season of frights and delights takes hold, there is no better time to indulge in some eerie entertainment with the fantastic Halloween Bingo. This game flawlessly merges the thrill of traditional casino games with the festive ghoulish atmosphere, catapulting bingo games into an entirely new dimension.
The spin of a wheel, the suspenseful wait, and the satisfying revelation of numbers invoke a palpable excitement that is further amplified by the Halloween-inspired aesthetics permeating every corner of this addictive game. The already fun-filled experience of bingo gaming is further heightened by the introduction of a spinning wheel, a feature that adds an element of unpredictable fun to your gaming experience.
Halloween Bingo offers you not just an exciting number game, but also pulls you into a tit-for-tat battle against a computer opponent. Each round becomes a thrilling contest from start to finish, brilliantly blending fear and fun in equal measures. Revel in your victories or plot your comeback with each spin.
The immersive visuals coupled with gripping gameplay make Halloween Bingo an absolute must-play this festive season. Whether you're a seasoned bingo buff or a newbie looking for something exciting to play, this engaging blend of number-based strategy and luck-driven gameplay promises endless entertainment.
The Halloween fever is upon us - let's start spinning! With its unique theme and hair-raising excitement, it's safe to say that Halloween Bingo has transformed traditional casino gameplay into an electrifying experience that will surely get your adrenaline pumping. Dive headfirst into this captivating world of number games today and revel in the spooky spirit of Halloween!
What are the best online games?