Gymnastics Girls Dress Up Game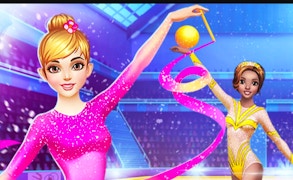 Gymnastics Girls Dress Up Game
Description
In Gymnastics Girls Dress Up Game, live your dream as a rising star in rhythmic gymnastics! This game takes you beyond the gym and into the glitz and glam where fashion meets athletics. Go through extensive training, perform stunning gymnastics stunts, and most importantly, dress up in fabulous glittery leotards that will impress the judges and the crowd. Your performance matters, but your style can tip the scales!
How to play
The game features simple drag-and-drop mechanics. Choose from a variety of stunning outfits, makeup, and accessories to dress up your character. Perform mesmerizing gymnastic stunts that involve splits, tumbling, and somersaults. The key is to coordinate your moves perfectly and dress to impress for the ultimate victory.
Tips and Tricks
Mastering the right balance between skill and style is crucial. While practicing your stunts, also invest time in choosing an outfit that complements your moves. Remember, a great performance combined with an eye-catching outfit can wow the judges.
Features
Fun Game-play: Engage in exciting dress-up battles while portraying athletic skills.
Diverse Wardrobe: Offers a variety of glittery leotards to choose from.
Rhythmic Gymnastics: Perform amazing stunts with flawless coordination.
Earn Points: Score more for better athletic performance and stylish dressing.
What are the best online games?