Guess My Sketch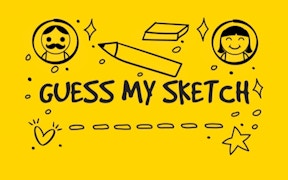 Guess My Sketch
Enter the captivating realm of Guess My Sketch, a standout title in the crowd of drawing games that combines the thrill of trivia games, the challenge of brain games, and the enjoyment of 2 player games into one engrossing experience. Steeped in creativity and bolstered by a healthy dash of competition, this game will have you on the edge of your seat as you try to guess what your friends are sketching. Is it a soaring bird, a speeding plane, or perhaps just a poorly drawn apple? Score points for correct guesses and aim to rank number one in the arena!
The key to success in Guess My Sketch lies in deciphering your friend's artistic prowess - or lack thereof. In contrast to other drawing games, where precision is paramount, here it's all about interpretation. This is where fans of brain games will find their time well-spent. Each stroke of your friend's pen might send you down a different path in this veritable forest of trivia challenges.
At its heart, Guess My Sketch is one of those 2 player games that revels in its simplicity while offering layer upon layer of intriguing gameplay possibilities. It puts a new spin on trivia games by using imagery instead of questions and answers - it's like Pictionary met Trivial Pursuit in an online gaming alley!
In summary, Guess My Sketch delivers an addictive blend of drawing, trivia and brain teasers all tied up in competitive 2 player gameplay. It's not just about outdrawing your opponent - it's about outthinking them too. So if you're ready for a challenge that'll test both your artistic interpretation and your quick-witted ingenuity, step into the arena - Guess My Sketch awaits!
What are the best online games?