GTA Jigsaw Puzzles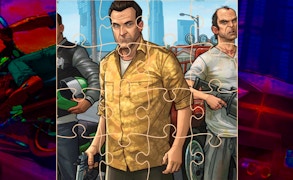 GTA Jigsaw Puzzles
Immerse yourself in the dark, gritty world of your favorite gangster games like never before with GTA Jigsaw Puzzles, a unique puzzle-centric spin-off bound to challenge and entertain even the most seasoned gamers.
Synthesizing the unmistakable allure of GTA's raw urban environments with the mind-bending twists and turns familiar to fans of brain games, this title keeps you on your toes while simultaneously allowing you to revisit all those familiar streets, vehicles, characters, and scenarios that have become synonymous with the GTA franchise. Each jigsaw puzzle is essentially a tribute to iconic moments from the world-renowned series - a litmus test of how well you know your Los Santos from your Vice City.
The difficulty levels in GTA Jigsaw Puzzles range from easy through medium to hard; each picture puzzle thus catering to varying skill levels and offering a distinct level of challenge. Hardcore gamers will appreciate the sophistication and complexity of hard puzzles - indeed an exercise in mental agility and perseverance. Conversely, casual gamers or newcomers will find themselves equally entertained with less arduous challenges available within easy and medium modes.
Importantly, there is no time limit imposed on players. You can indulge in these brain tickling puzzles at your own pace, enjoying a leisurely gaming experience that's free from nerve-wracking countdowns. This feature makes GTA Jigsaw Puzzles an excellent choice for those wanting relaxing gameplay interspersed with bouts of intense challenge when piecing together intricately detailed scenes from this classic gangster game.
In conclusion, GTA Jigsaw Puzzles is not just another spin-off but a masterfully crafted brain teaser that adds another layer to the multifaceted world of GTA games. It's time you flexed your memory muscles with this vivid homage to an all-time favorite gaming universe!
What are the best online games?