Grass Cut Master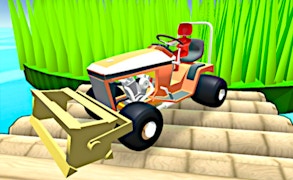 Grass Cut Master
Roll up your sleeves and prepare to get your hands dirty in Grass Cut Master, a key player in the engaging world of farm games. This immersive hypercasual simulation game throws you into the avatar of a farmer, armed with a powerful lawn mower, battling against the clock to ensure meticulously manicured landscapes.
The very heart of this Hyper Casual Game is its simple concept, yet it boasts complexities that will challenge even the most seasoned gamer. The task? Cut grass on distinct platforms within a strict timeframe. Sounds easy? Not quite! As you navigate the terrain, you'll need strategic planning and keen reflexes to maximise efficiency and enhance performance.
Grass Cut Master transforms the humdrum activity of mowing into an adrenaline-pumping race against time. The game optimizes a sense of urgency while maintaining an air of calm, allowing players to experience a unique form of zen-like focus.
The fun doesn't stop at the basic tasks. The game provides ample opportunities for upgrades, allowing you to enhance your vehicle's capacity, blade length and speed as you progress level by level. High risk leads to high gains; pushing yourself will result in faster speeds with greater rewards.
For those who crave more from their simulator games, Grass Cut Master continually adds new layers of depth and intricacy that will keep you hooked on your farming journey for hours on end.
In conclusion, whether it's the satisfaction derived from carving out perfect paths or the thrill associated with chasing top speeds, Grass Cut Master promises an experience that unites both casual gamers and hardcore enthusiasts alike in pursuit of agricultural excellence.
What are the best online games?